Archive for December 2009
Yes i finally found something to do in my entire 1 month dec holidays. I'm dead glad to have my cousin who does these events stuff.
My 1st and last pay of 2009 comes from this Xmas event at …[i forgot the name of the place; it starts with B and is near kallang]. Anyway we were in charged of the telematches. We expected it to stop raining after the first downpour, but the rain came again during the matches and we had to move to the sheltered area. Initially we were expecting those above 8 and below 60 to be interested in our telematches. So imagine our surprises when the age range went beyond that and we had to improvise one of our games so as to prevent any elderly from getting hurt.
We received our 2nd dose of incredulity when we realized that our contestants, despite their advanced ages, were rather enthusiastic; they actually did whatever we wanted them too including the use-your-mouth/face-to-look-for-sweets-in-a-bowl-of-powder-game! Imagine that delightful scene of powdered snow and these great contestants going out for the game – wonderful sportsmanship they have!
We were are in awed~
Once again, thank you all these great people!
PS: I finally managed to catch some fishes at the fish game stall. とても大変ですね! wink
My intention was to spend my remaining Kinokuniya vouchers which will be due in Feb 2010.
Upon reaching there, I realised I have nothing much to buy. The 2010 Jan issue of Bea's UP has yet to arrive; there's too many Japanese books for JLPT and etc that I dont know which should I buy; as for my novels I didnt see anything that's extremely nice – anything that's nice and not available in the library. I guess I shall return again when the shelves are overfilled with Ayu's pictures.
Below was what I saw just now – the ENTIRE table/shelf is filled with Namie's face!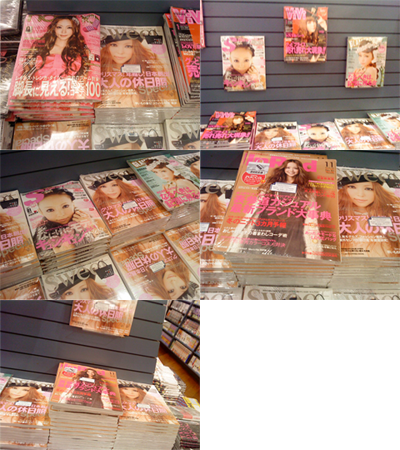 It's a little frightening though~
Oh yeah my hoot for the day is a navy dress, that has a hood from Uniqlo.
I didnt see any discounted[opening special] jeans – T.T, should have bought it last time when I was there.
K I shall continue with my timetable planning – STAR wars will start in 15hours